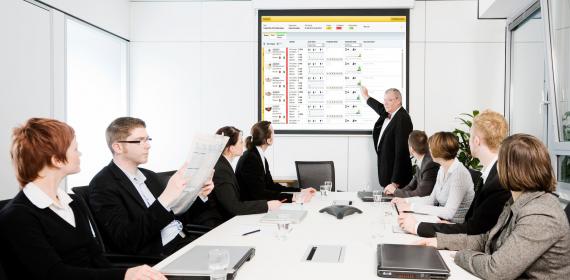 Enterprise Resource Planning (ERP) Systems are designed to aid in operation and management of the business. With ERP systems having its root in mid 50's - more than 50 % implementation of ERP systems are over 7 years old and more than 10 % are over 15 years old.
Age of ERP can have impact on the continuing benefits that the company can achieve. Any ERP system must follow a strategy that maintains the ERP continuously to the ever changing business needs of the organization.
1.) Any ERP system must follow a simple yet powerful and easy to understand strategy of 5 principles of SARAS design:
Speed: ERP system must help to complete your activities faster - Your daily operations must be faster, integrated and communicative, this will reduce the lag caused due to delayed communications & manual search and follow ups.
Accuracy: Must help in taking decisions confidently - and for that to happen the Numbers & formulae must be accurate so that further analysis and processing can be done on that data.
Report: Any modern ERP system must have Management Information System (MIS) across hierarchy - reports that helps in faster and timely alerts, powerful grouping and sorting - aiding to decision making.
Achieve: ERP must be consious of Targets and Goals of the company - your systems should help you achieve them in time bound manner.
Simplify: System must promote organized workflow and simplicity - aim is to have extremely user friendly systems. At the same time ERP systems should help in simplifying your operations thereby increasing efficiency and enabling you to continue to grow.
2.) Must be extensible and configurable.
Now a days modern systems usually come with modular technology - enabling them to extend as the business grows, and they are also highly flexible and configurable - thereby helping organization to tweak the workflows and business formulaes without involving software changes.
This not only saves the cost on minor customization but also helps in implementing the changes faster.
Such ERP systems are usually designed by keeping global requirements in mind and they are also heavily tested and refined over the period.
3. Integrated ERP system
Any ERP that cannot communicate with other systems in your organization should be changed immediately, it is way to old and it is not providing the benefits.
Integrating your discreet systems benefit in multiple ways. It can be as simple as enabling single login across all your systems, and it can be as high tech as giving real-time alerts to the management depending on the work happening on the shop floor. Integration can also help take advantage of utilizing best in each software - if you have a powerful accounting system, then why to use a simple accounting program that came with your ERP - just integrate all the transactions - related to receivables, payables, customers and supplier - with your favourite accounting system and continue to take benefits by tapping into the best of both the worlds.
Typically every large organization has multiple databases spread across various application, Integrating them provides a better MIS reporting by extracting data from all the database and providing a consolidated view of key performance indicators.
4. Secured
ERP system must be highly secured from unwanted intruders having unlawful intentions. Also it should be secured from innocent prying. Its modules must have permission driven architecture and must ensure that users can see, edit, & delete only the data for which they have the permissions.
Also the ERP system must have flexible deployment architecture enabling network administrator to adopt the best strategies for configuring security.
For example a system that promotes having database and the application on the same server is not going to give many options to your networking team.
And a system that if implemented on cloud - slows down drastically - is also not going to leave you with many options.
5. Mobile and Browser friendly
Any ERP system that runs only on a desktop and is dependent on a particular operating system - say it runs only on microsoft systems - is not going to help your company in long run.
Systems must be able to run from any browser, giving it the ease in operations, deployment and maintenance - This also helps in reducing the cost.
For example: A common requirement is to access your system in a meeting and present your data to the attendees - It can happen only when the systems can be access from any computer and any browser - providing complete flexibility.
Now a days management like to approve system from online - and Mobile devices are the best friends of management - if your system is not providing mobile friendly interface or a specially designed app - then it is time to improve the system or look for a better one.
6. Do your research well: Customized or Product - which solution is best for you?
Customized system is fully compatible with the needs of the company, instead of other way round where company has to change their internal processes to suit the limitations of the product.
To upgrade is far more simpler, faster and cheaper compared to product - because customization can be done by any engineer that understands the source code, instead of depending on the vendor that provided the product - hence giving you far better room for negotiations and choosing the best options.
Products are generally old and are usually built many years back for which vendor is now reaping continuous benefits, whereas customized solutions are built on latest technology providing benefits of current improvements in both speed, security and user-friendliness.
To summarize - A team of committee should ensure and maintain these design parameters on a regular basis - the ultimate objective should be to have a system that helps. With its following characteristics always on the checklist:
It should adopt 5 key principles of SARAS design
Extensible & Configurable
Integrated
Secured
Mobile and Browser friendly
Having said that it is important to have a good and experienced consultant / engineer that has industry knowledge so that best software can be developed or chosen, thereby creating a positive impact to your bottom lines. It is also important to have a proper strategy that keeps your systems upto-date with technology and business requirements, else their benefits may gradually disappear.