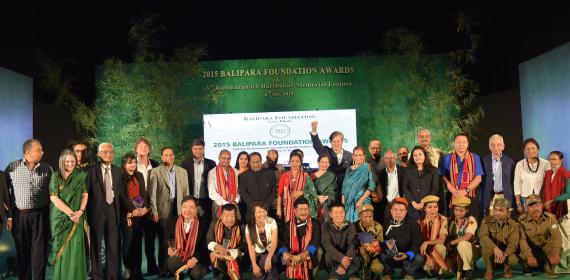 The journey starts by reaching one of my dream destination - Assam. The event was special and so was the location. Ranjit Barthakur co-founder of Balipara Foundation and our partner had called up for a global conference on discussing and resolve an important topic on man-elephant conflicts.
The special events were organized between 5th Nov 2015 till 7th Nov and 2 of which 2 days were allocated on discussing man-elephant conflict challengs and resolution, while the 3rd day was for honoring the winners of Balipara Foundation Awards and were attended by dignatories from IUCN, WWF, Elephant Family, Blue Economy writer Gunter Pauli, Nicholas Claxton, Dr. Raman Sukumar and various other scientists, including the visit from political dignitaries like Sri. Gaurav Gogoi and Hon. Chief Minister of Assam Sri Tarun Gogoi.
SARAS ennovations team was roped in for digital marketing and i was excited for obvious reasons - i love nature and North East India and doing digital marketing for them was an honor and an amazing experience. We learnt a lot about the unique challenges related to elephants and also witnessed the heroes of our society that have done marvelous work for the environment - and watched them receive the token of appreciation. And most importantly we got introduced to Blue Economy concepts. We will be writing more blogs about Blue Economy and disruptive thinking that is the need of the hour.
In the mean while, we also did what we are best at doing - digital marketing - in total 100,000 digital audiences were reached through facebook and twitter, with over 150 posts made in a span of 3 days.